Flammkuchen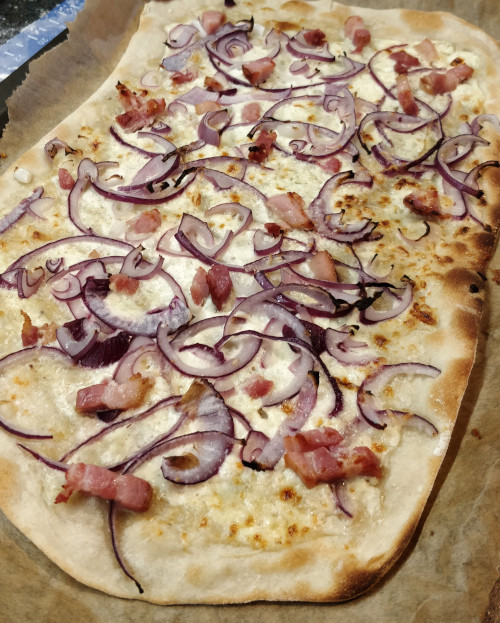 Flammkuchen, flam-kuche, Flàmmeküeche lit. "flame cake" - many spellings, but all delicious - this is a German dish from the Baden/Alsace border region borrowed from the French (tarte flambée) borrowed from the Italians (pizza).
As a variation you can swap the creme for salsa and tomato to make something closer to pizza.
This makes two flammkuchen.

Tasty easy to make German/French variation on Pizza
Cook time: 5M Prep time: 20M Total time: 25M
Yield: 4
Nutrition: 850 calories
Ingredients
125g white flour
75ml water
dash of olive oil
half pot of crème fraîche
pinch of nutmeg
finely sliced red onion
small pack of lardons
handful of gruyere/parmesan
Method
Mix the flour with the water, olive oil and a pinch of salt until stretchy. Wrap in cling film and refrigerate for 1 hour.
After 1 hour, switch the oven on to 300C (yes, hot!)
Roll out dough very thinly on a floured surface and transfer to baking parchment on a baking tray.
Mix creme, nutmeg and season and spoon/spread over pastry evenly.
Sprinkle over onion, lardons and cheese.
Bake for 5 minutes, or until crispy at the edges.