Mince pies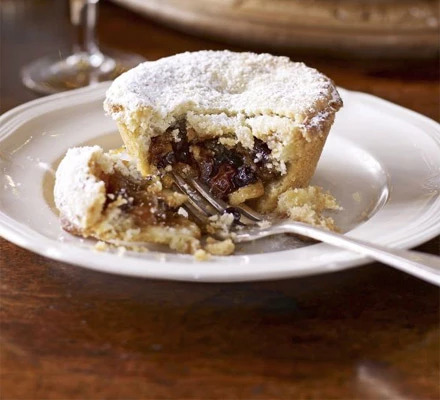 Tasty wholemeal alternative mince pies.
They are VERY delicate while they are warm especially if you have used butter.
Best eaten warm with a sprinkling of icing sugar on the top!

Wholemeal alternative to plain flour usually used in mince pies
Cook time: 5M Prep time: 20M Total time: 25M
Yield: 24
Nutrition: 850 calories
Ingredients
200g wholemeal flour
200g plain white flour
2 tsp baking powder
pinch of salt
200g butter or margarine
4 tsp brown sugar
120-180 ml water
40 ml oil
500g mincemeat (approx)
Method
Mix the flours, baking powder and salt together in a bowl. Rub the fats in with your finger tips until you have a mixture resembling fine breadcrumbs. ( I do this in a food processor)
Dissolve the sugar in 120 ml of the water. Mix in the oil and add this to the flour mixture. (I find that it doesn't really mix but that does not seem to matter.) Add a little more water to bind the mixture if necessary. The dough should be on the wettish side (otherwise it is impossible to handle when you roll it out!). Wrap in cling film and leave it to rest for 30 to 60 mins in the fridge.
Preheat the oven to 190°C (170°C fan) and grease the bun tins.
Roll out about 2/3 of the pastry and cut 24 discs using a 78mm diameter serrated edge cutter (that's what mine measures). Press these into the holes in a couple of tart trays.
Fill each of these with a heaped teaspoonful of mincemeat. (Avoid the temptation to overfill as they will overflow).
Roll out the rest of the pastry and cut out 24 lids. I use a star or heart shaped cutter usually. I think because the pies are not completely sealed, it helps to avoid them exploding.
Brush a dab of water on the underside edge of a lid and place it on top of a base, pressing the edge lightly to seal. Repeat for all 24 pies.
Bake for 10 to 15 minutes, remove from the oven and let them cool in the tins for a few minutes before attempting to remove them to a cooling rack.