Slow cooker chicken tikka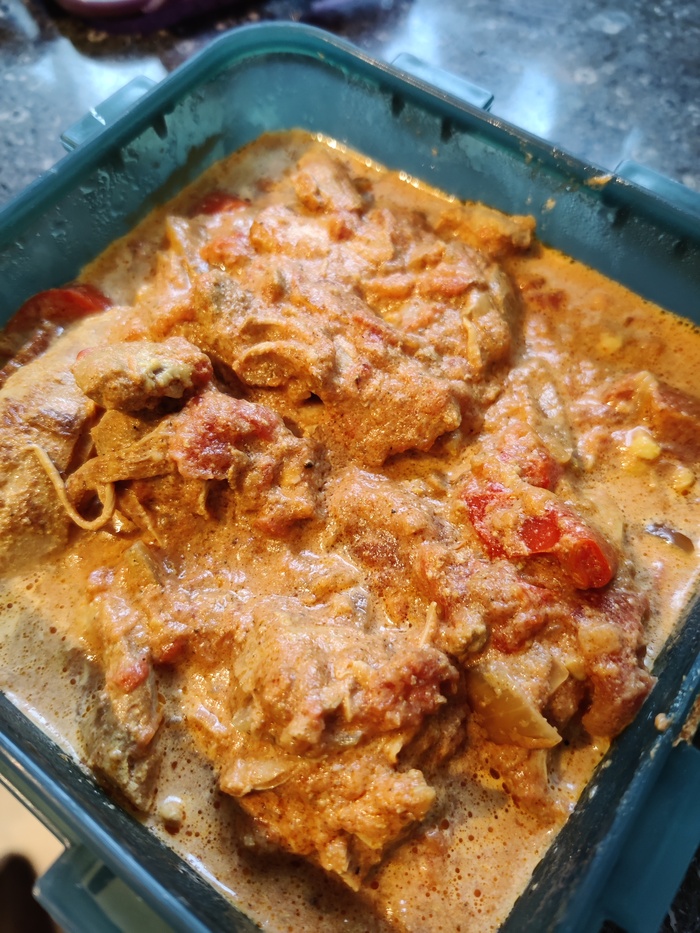 Delicious warming creamy curry
Cook time: 6H Prep time: 30M Total time: 7H
Yield: 8
Nutrition: 580 calories
Ingredients
800g chicken thighs
3 tbsp yoghurt
2 cloves garlic, minced
1 tbsp grated ginger
2 tsp ground garam masala
1 tsp ground turmeric
1 tsp ground cumin
1 tsp salt
2 small or 1 large onion, chopped
2 tbsp butter
1 clove garlic, minced
1 tsp ground garam masala
1 tsp ground turmeric
1 tsp ground coriander
1/2 tsp ground cumin
1 tbsp grated/minced ginger
2 tbsp tomato puree
1 red pepper, sliced
1 tbsp mango chutney
2 tins chopped tomatoes
1/2 tsp cayenne pepper (optional)
100ml of double cream
1 bunch of coriander
naan bread, warmed
Method
Mix the yoghurt, and half the ginger, garam masala, turmeric and cumin together and slather over the chicken.
Leave to marinate for 1 hour in the fridge.
Fry chicken on high until browned in batches, then add to slow cooker.
Melt the butter in the same pan and fry the onion off for 5 mins.
Add in the spices, tomato puree and peppers and cook for 5 mins more.
Add in the tinned tomatoes and chutney and bring to a simmer, then add everything to the slow cooker.
Cook on high for 6-8 hours with the lid off.
In the final 15-30 mins, stir in the double cream.
Chopped the coriandar and sprinkle over the top.
Serve with basmati rice and warmed naan breads.